What Can You Do with a GIS Degree?
Is a GIS degree worth it? What types of jobs can I get with a GIS degree? Are there alternatives for GIS certification, online programs, and diplomas? YES, there are 🙂
If you're asking these types of questions about a GIS degree or alternatives, then you've come to the right place for answers.
Because not only will you learn about career options for GIS graduates, but you'll also find out about earning potential.
Let's do this.
List of Careers for GIS Degree Graduates
It's said that you don't truly know your data until you can see it geographically. Because we can connect information to locations, Geographic Information Systems (GIS) is changing the way we do decision-making.
The main functions of a GIS are to create geographic data, analyze it and display it on a map. And this fits the three main career options you can land as a career:
But there are tons more potential career options with a GIS degree. For example, this table lists typical job titles for GIS degree graduates. As you can see, positions can range anything from entry-level to senior-level.
Entry Positions
CAD Drafter
Survey CAD Technician
Cartographic Technician
Land Survey Technician
Low to Mid-Range Jobs
GIS Analyst
Geodesist
Geographer
LiDAR Analyst
Geoint Analyst
Mid to High-Level Jobs
Remote Sensing Analyst
Geographic Information Systems Specialist
GIS Administrator
Senior CAD Designer
Senior Positions
Senior GIS Analyst
GIS Coordinator
Senior CAD Engineer
GIS Software Engineer
Survey Manager
Senior Geomatics Software Engineer
Typical GIS Employers: Which Fields Can You Work In?
A while back, I had a comment asking about which industries GIS integrates most with.
If there was one industry you could complement with a GIS degree, which one would it be?
Actually, there are too many to list. But based on job listings, here is a list of typical employers who hire GIS degree graduates:
As GIS is still a relatively new technology, there are thousands of GIS applications waiting to fuse into various industries.
READ MORE: Thinking Outside the Box for GIS Jobs
GIS Degree Salary: How Much Money Can You Make?
Like most careers, positions can range from entry-level to senior. At the lower end of the pay scale, technicians and draftsmen typically earn the least. For these types of positions, skills include databases, CAD, and mapping.
As you move into a higher pay scale, there are more specialized jobs. For example, remote sensing and LiDAR analysts are part of the mid-range pay scale. Also, we start to see GIS developers and programmers who create the GIS software that analysts and cartographers use.
At the top of the pay scale, senior GIS positions dominate the salary list. For example, GIS project managers execute and close projects. Also, senior software engineers have the experience and education necessary to design, develop, and maintain software.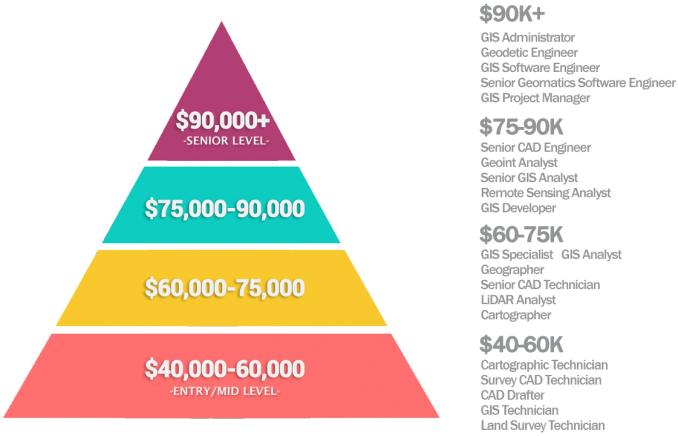 If you have a higher level of education and experience, you are more likely to be at the top of the pay scale and earn more.
READ MORE: GIS Salary Expectations: Climb the GIS Career Ladder
Career Outlook for GIS Degree Graduates
According to the US Bureau of Labor Statistics (BLS), geographers earn an average of $85,430 annually. Currently, the outlook is at 3% but the outlook changes often. On the other hand, cartographers and photogrammetrists earn an average $68,380 per year with a job outlook to grow 15% from 2018 to 2028. Overall, this is much faster than the average rate of growth.
According to Indeed, GIS developers and managers account for the highest percentage of job postings. In this line chart, GIS has been steady for job prospects.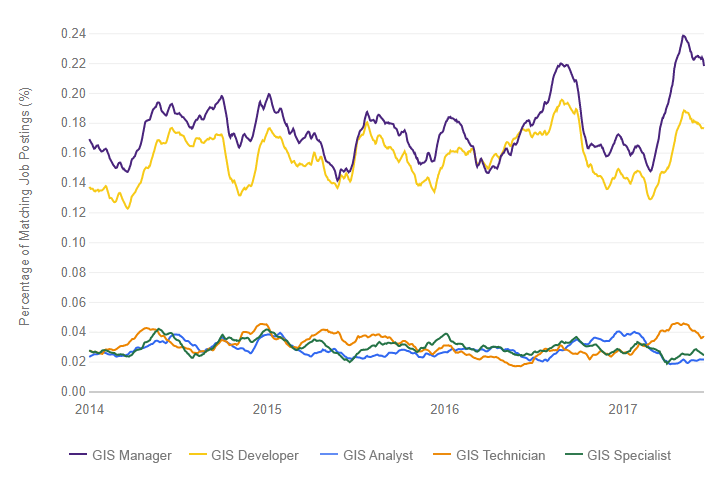 Even though GIS technicians, specialists, and analysts have the lowest number of available jobs, these job roles often overlap. If you added up their job postings, it would be similar to GIS managers and developers.
Even though all situations are different, Payscale gives a fairly decent quality of life ratings for GIS analysts:
Personal satisfaction: C
Benefit to society: B
Flexibility: B
Low stress: A
The Alternative: GIS Diploma / Certification
If you want to earn a GIS degree, check out our list of 200+ undergraduate and graduate geography programs in the United States and Canada.
If you don't want to go "all in" with a GIS degree, the alternatives are a GIS diploma or GIS certification. Alternatively, there are online GIS certificate programs. And these are fairly good options because you can complement other expertise such as in engineering, environment, or soil. Because GIS certification can help differentiate you from the crowd, it can also give you the extra credentials you need.
In GIS, the two main GIS certifications that employers look for are:
Both certification programs expect a level of proficiency in GIS and test your skill level. No matter what you choose (GIS degree, GIS diploma, or GIS certification), it depends on your current level of proficiency and what you want to get out of it.
READ MORE: GIS Certification: Is It Worth It? GISP vs Esri Technical Certification
Advance Your GIS Career
Self-paced learning courses can help you build a solid foundation to advance your GIS career.
If you're looking to complement your GIS skills, some of the growing areas of study are data science, machine learning, and programming. In fact, data science has already seen +650% job growth since 2012 (source: LinkedIn).
Here are some of the certification programs in data science that build a foundation for these skills:
Each course collaborates with industry partners like IBM, AWS, and Tableau and will help you upgrade your skillset and build a new and exciting career.